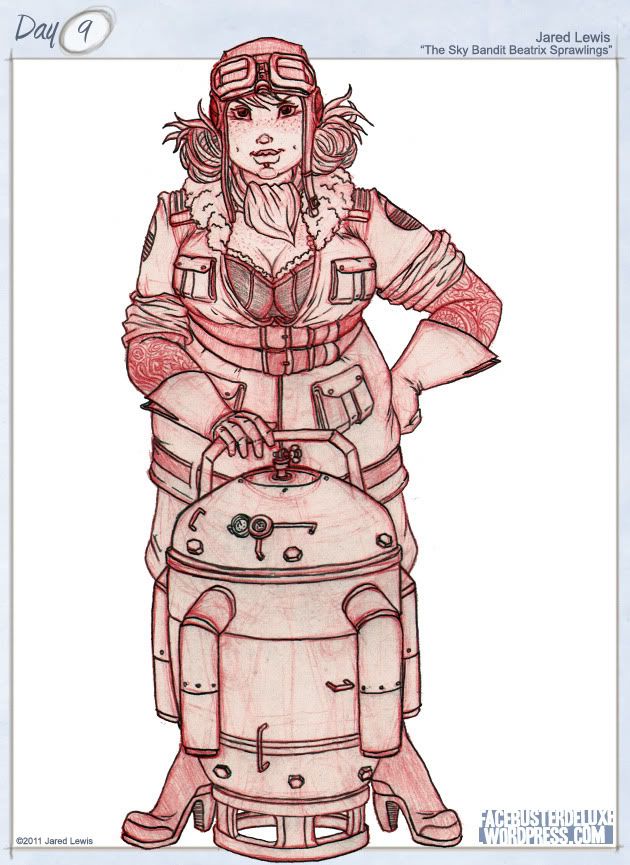 In this day & age, everyone is taking to the skies with planes & all manner of airships. Why should bandits & highwaymen be much different? With the help of her trusty pressure pack Ol' Gus, The Skybandit Sprawling spends most of her days up in the stratosphere, sticking up any rich, unfortunate soul that enters her airspace. As far as sky bandits go however, pray Beatrix's the one holding you up. She lives by a series of codes, & she wouldn't hurt anyone unless she was really forced to hurt them.
Still, it's best to just hand over your valuables as quickly as possible, as not to test her.
—-
Since the character I labeled as steampunk the other day wasn't really that steampunk, here's something more traditionally in that vein. Though I guess it's more of a Last Exile/'Dieselpunk' sort of thing I'm thinking here. The thing I had on my list of jump off ideas was Dieselpunk Aviatrix. Whatever it's still anachronistic. That propane tank cappuccino machine looking thing's supposed to be her jetpack. It's set up to either work like a sled or as a back pack. And the red stuff on her arms were supposed to be tattoos, because it bugs me sometimes that 'punk' is part of word but never really paid much mind to. I also made her chunkier for two reasons. Firstly, the variety. I felt like the other girls I was drawing were all pretty close to one shape. And second, I felt for her particular case, it kind of helped give her that old-timey, Rosie the Riveter, up-&-at'em kind of attitude. I think I drew the arms too long, & I'm not entirely happy with the rocket pack, but I do like the detail on the head (goggles/scarf) & how the hair came out.
Two more. Hopefully I can maybe do another one tonight.
Since I've got you here, check out Morgan Jeske's tumblr. He's an all-around cool dude with great taste. He's doing his own 30 Characters & posting them on his tumblr. He's in much better shape than me at the moment, giving you a half month's worth of characters to go check out. Go now! It's some awesome stuff.
30/M/PA, USA/COMIX!!!