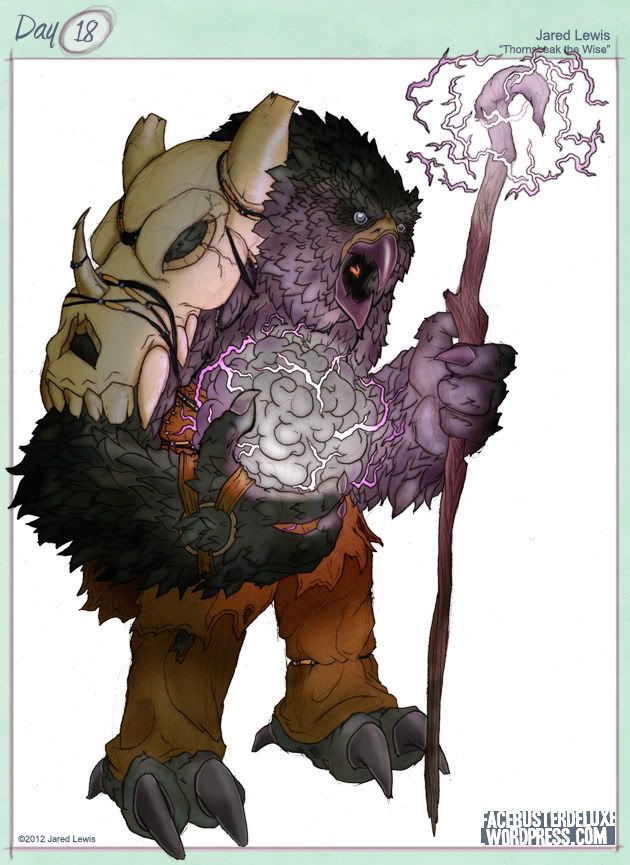 While most Owlbears have a very feral nature, there are some found in the Southern Wilds that possess the capacity for speech & even spellcasting. The wise old Thornsbeak is one such owlbear mage. His specialty is Elemental storm magic, & he uses the electricity to get a sense of his surroundings as his eyes have long lost their ability to see. The skull fragment he wears as a trophy is said to come from the Cobalt Wyrm, the legendary creature that once terrorized the Great Severin Pass.
—-
So I was at my girlfriend's dad's house for Thanksgiving & hit a bit of a snag creatively. You know, just kind of being out of your element? She had a D&D monster manual sitting around so I gave it a look. I'm typically not a fantasy guy, so I never really got into the actual game, but I always loved digging through the manuals & looking at the art. And that's where this came from. As I flipped through it, I kind of dug the Owlbear creature in it. Something about the shape of it & the weird juxtaposition of the two critters. Still, I was thinking that since western cultures regard owl's as a symbol of wisdom, any weird permutation thereof should be something a little more than just a wild beast. So I made an owlbear Storm Mage, quite possibly to contend with The Furnace, if that was ever something I got around to making.
30/M/PA, USA/COMIX!!!