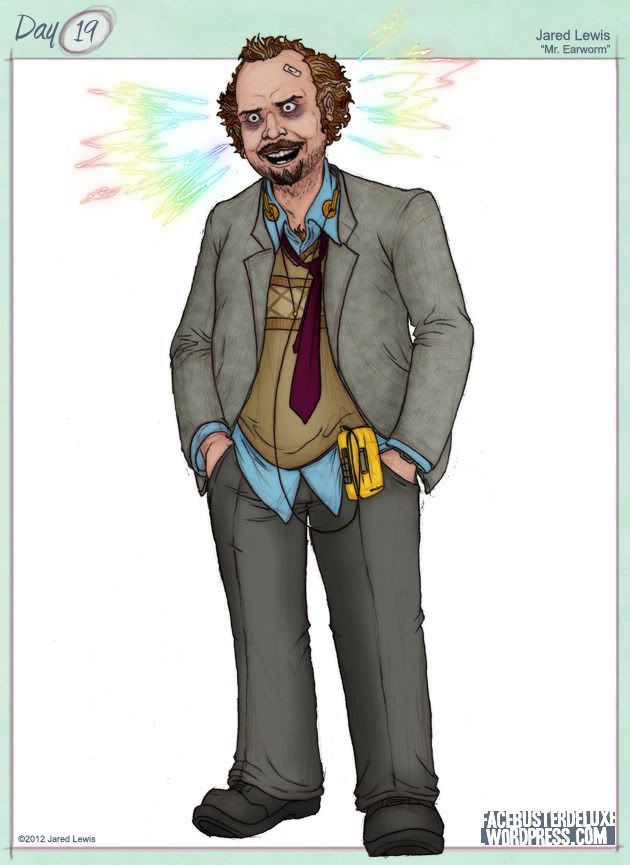 Auditory Innundation. That's what they call it. And it's Mr. Earworm's specialty.
Basically, what ever music he's listening to? It bangs around in his head, goes through a couple of filters until it becomes a nightmarish cacophony he can project it into the heads of others at whatever volume & intensity he wants. This makes the cassette in his walkman a mixtape of sheer terror. On it are such hits as:
WHERE HAVE ALL THE COWBOYS GONE
Paula Cole
BUTTERFLY
Crazytown
MACARENA
Los Del Rio
KISS ME
Sixpence None the Richer
IRIS
The Goo Goo Dolls
ALL STAR
Smash Mouth
HOW BIZARRE
OMC
WHO LET THE DOGS OUT?
Baha Men
And Many More
… all of which he can use as a weapon, torturing victims for leverage or driving them to insanity or even suicide.
Word has it, he got his start a morning zoo crew DJ, when a falling out with the station manager lead him to fall precariously onto a satellite dish. In a thunderstorm. During solar flares.
Now he's got a bone to pick with society.
—-
This was a sudden idea that came together pretty quickly, & I like the outcome. I'd imagine he'd probably be a villain in the same universe as the Annunciator. First, let me state that any resemblance to a certain character actor was at first unintentional (I was originally basing him on another actor entirely), but as the drawing progressed, it seemed to just make sense & didn't shy away from the likeness either. That guy pulls good faces & his more manic/maniacal roles suit what I was going for with this guy in a way that felt really right. Secondly, it's probably terrible of me, but if you were to ask me what superpower I'd want, this would be immediately behind telekinesis & teleportation. I probably wouldn't want to drive people to the lengths of this character, but I listen to some annoying stuff & the idea of projecting that annoying music into the brain of some jerk that cut me off? I don't know, I think that'd be pretty cool.
Some song's come from the Aziz Ansari bit about the World's Worst Mixtape.
Also, I hate the term "Earworm." This is the first & last time I will ever say it.
30/M/PA, USA/COMIX!!!