Author Archive: PaulAllor
To understand Toby Freeman, you have to understand his father: Demon Freeman.
Yes… that Demon Freeman. The Duke of Danger. The Prince of Peril. The Titan of the Open Sky. By the time Toby was born, Demon was already the greatest daredevil this world had ever known. Toby was a shy child, the polar opposite of his larger-than-life father.
Now, don't get me wrong. Demon tried to be a good dad. He would show up for Toby's academic superbowl tournaments, but he'd sit in the audience, antsy, twitching, thinking about his next network special. At Toby's birthday parties, all the kids would line up to for Demon's autograph, leaving Toby stranded, sitting along in the bounce castle. When Toby was 16, he went on his first date, with a girl from his math club. She picked her up at her grandmother's house, in his beat-up Ford Escort. Two blocks from the house, she put one hand on his thigh, leaned across the seat and whispered, "why don't you drive a little faster, daredevil?" They didn't have a second date.
Most kids who grew up in their father's shadow would rebel, desperate to set themselves apart, to blaze their own trail. Instead, Toby faded even further into the background.
In college Toby majored in accounting. His sophomore year, Demon died — not from a fiery crash or a horrible fall, but from an aneurysm at the base of his brain. Toby took a week off from school. He stayed in his apartment, watching old videos of his dad. And then he went back to class.
After college, Toby found a job as a bookkeeper at a prosthetics factory. He excelled at the work, but never sought advancement, never looked for anything better, more lucrative, more prestigious.
And so it went. He lived a cautious, conservative life. He joined the Kiwanis club, and then fell away from it. He took up knitting, and was great at it. He took up gardening, and was lousy at it. He found a wife, and they had a son named Toby, Jr.
Junior took after his father. He was quiet. Studious. Shy. And then one day, not long after Junior's 14th birthday, Toby was scrolling through his Facebook page, when he saw the words "Toby Freeman, Jr. was tagged in a video."
Even after Toby clicked on it, it took him a few minutes to comprehend what he was seeing. Junior and his friends had set up a small, wooden ramp, and were taking turns jumping a moped over a small dog house. Toby was furious. How could his son be so stupid? And then he noticed the look on Junior's face. Simultaneously happy and free and afraid.
And then Toby felt something else. A pleasant but unfamiliar emotion.
After a few seconds, he realized it was pride.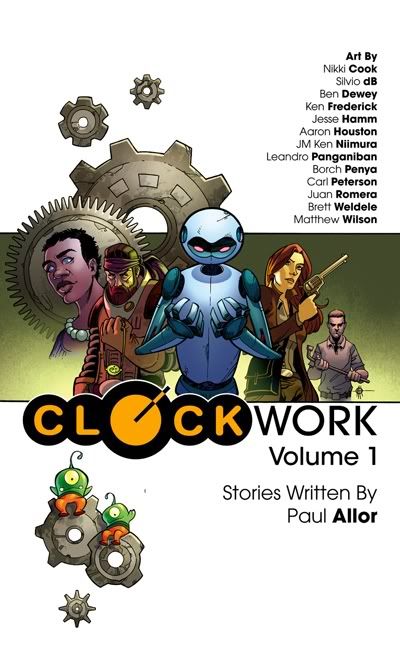 The twelve short comics in Clockwork, Vol. 1 defy genre lines, taking you on a journey from the Old West to outer space, from death row to a child's home.
Writer Paul Allor is joined by some of today's most exciting artists, including JM Ken Niimura (I Kill Giants), Brett Weldele (Surrogates), Nikki Cook (Memoir) and many more, in a book that combines dynamic storytelling and true heart.
"Paul Allor is continually testing boundaries – both his own as a writer and those of the comics medium. Every story in this impressive debut contains something new – something reached for – and the result is awesomeness obtained."

—Andy Schmidt, Comics Experience
* Product Details
– Collection of twelve short comic stories
– 80 pages, black and white
– Writer: Paul Allor
– Artists: Nikki Cook, Silvio dB, Ben Dewey, Ken Frederick, Jesse Hamm, Aaron Houston, JM Ken Niimura, Leandro Panganiban, Borch Penya, Carl Peterson, Juan Romera, Brett Weldele
Cover colorist: Matthew Wilson
Price: $12
You've never starved. Never fought desperately to pry a half-eaten Cheeto from a shag rug. Never choked down a rotten hunk of potato, just to fill your gnawing hunger. Never felt your heart burst with joy at the sight of a baby carrot.
So, yeah. I went for the cheese. Are you kidding? From the second I entered the room it consumed me. It shut down my brain and rattled my bones. Made my fur stand on end. Filled me with lust. And as the metal bar came crashing down, as it tore my skin and shattered my spine, all I could think is, one taste, one taste and it will all be worth it, let me have just—
____________________
Hello, all! My name's Paul Allor, and I'm a comic-book writer. I recently completed Clockwork, a collection of 12 five-page stories written by me and drawn by a group of truly wonderful artists.
I'm also on staff at Andy Schmidt's Comics Experience, where I manage the book club. And I'm a member of The Brutal Circle writers' group.
Since I'm a writer, my posts will be pretty much exclusively text-based. I'm not sure yet what form they'll take. I'll figure it out as I go along! Good luck to everyone. I look forward to checking out some of the awesome work that's produced. Oh, and many thanks to Tyler James for putting this together and making it all possible.