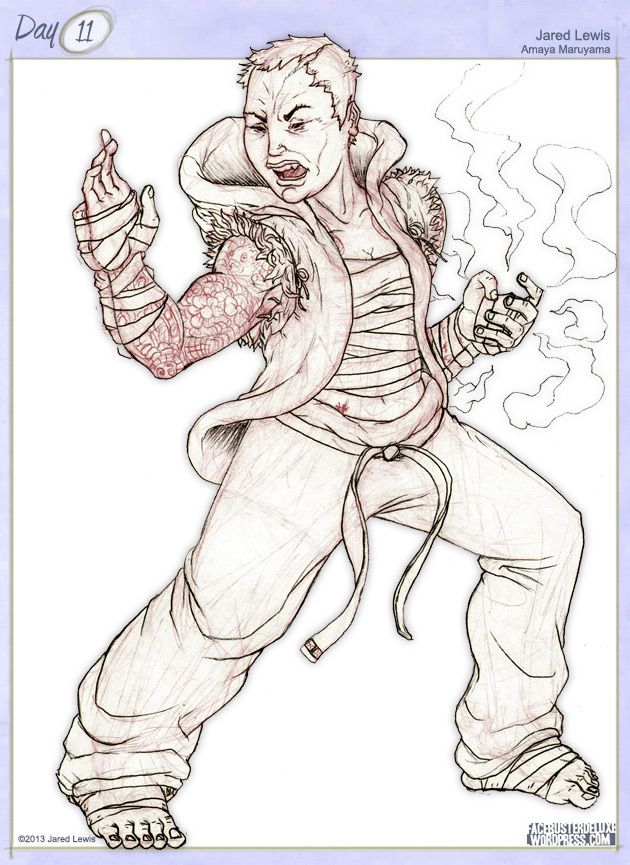 Amaya has gone through a great deal of phases in her life, but there was always a toughness to her; a violent constant throughout. In school she was a bit of a bully. A little down the road, she was what some might call a delinquent. From there, she got into the riot grrl scene in Tokyo. Wild nights on the town eventually had her crossing paths with the Yakuza. Through them, she was introduced to the world of underground fighting. And it was through underground fighting where she was introduced to Kyokushin Karate.
That was 18 years ago, & so far, it's been the one thing to hold her interest the longest. Nowadays, she spends her time in seclusion, in an abandoned temple in the Aokigahara, far from the wild nights of Tokyo, meditating & honing her technique. She tried to rid herself of all other distractions in order to focus. Rarely even emerging for food & supplies, she strives to be the deadliest fighter on Earth.
—
No thought was put into the name, it's generic & Japanese & I liked it because it's close to being a palindrome. And I think with this one, though I'm being generous by going drama & manga, I've completed the cycle of all the different categories I think. So that's at least one goal. I'm probably not posting anything else after this before the end tomorrow, but be sure to keep following as I go for 52 characters for the year on my tumblr. Thanks to everyone. Good luck other participants.
30/M/PA, USA/COMIX!!!