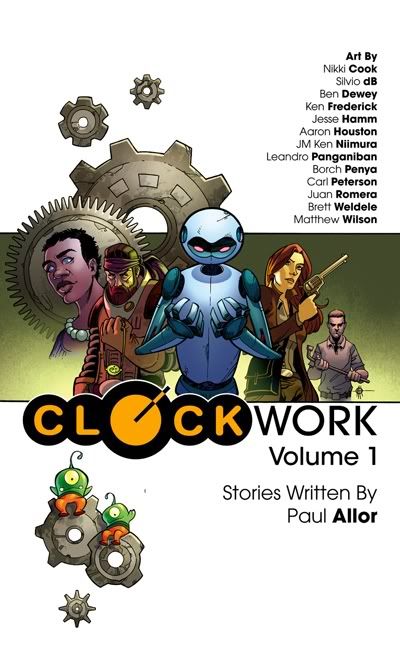 The twelve short comics in Clockwork, Vol. 1 defy genre lines, taking you on a journey from the Old West to outer space, from death row to a child's home.
Writer Paul Allor is joined by some of today's most exciting artists, including JM Ken Niimura (I Kill Giants), Brett Weldele (Surrogates), Nikki Cook (Memoir) and many more, in a book that combines dynamic storytelling and true heart.
"Paul Allor is continually testing boundaries – both his own as a writer and those of the comics medium. Every story in this impressive debut contains something new – something reached for – and the result is awesomeness obtained."

—Andy Schmidt, Comics Experience
* Product Details
– Collection of twelve short comic stories
– 80 pages, black and white
– Writer: Paul Allor
– Artists: Nikki Cook, Silvio dB, Ben Dewey, Ken Frederick, Jesse Hamm, Aaron Houston, JM Ken Niimura, Leandro Panganiban, Borch Penya, Carl Peterson, Juan Romera, Brett Weldele
Cover colorist: Matthew Wilson
Price: $12
Category: 2011, Buy #30Characters!